So far, Pelican Negru was known for red blends, obtained from biodynamic vineyards. Since the first white wine produced from grapes grown on an ordinary vineyard entered the collection of this producer, a so-called break in the patterns has occurred. Or, Lace White Blend, 2019 has its particularities. Moreover, the winemaker has expressed through it a certain message for the entire Moldovan wine sector.
What are the advantages of old vines?
Gheorghe Arpentin bought the grapes for his new white wine from individual farmers, whose vineyards (​​half a hectare, one hectare) are located in the vicinity of his plantations (22 hectares), in Olanești. These vineyards were planted in 1977, so, the vines are 43 years old. All over the world, the wine produced from old vines is highly appreciated: having overcome diseases and natural disasters, the vines have gained enough strength and further transmit it to the wine. In addition, older vineyards were planted at a time when clonal selection did not exist. Cloning a certain variety of grapes uniforms its harvest.
This may be good, on the one hand, but I would be bored to see all people with same faces. Clonal selection has led to a standardization of tastes. I think we're making a mistake when we say we only need to make clones. In such a case, everyone would get the same thing. When we blend different characteristics, which are present in the mass selection, one vine gives a better taste, another – more flavour, etc. In my opinion, this is more in line with nature, than starting to clone. The mass selection has generated a diversity, which was preserved in the older vines", Gheorghe Arpentin explains.
The winemaker's philosophy
Unfortunately, old vines are gradually disappearing, thus, my Lace White Blend wine is a tribute showing our respect and a sign of our interest in them", the winemaker says. "This heritage is at risk of disappearing, if we will not harness it. The main idea behind Lace White Blend is to preserve and praise on our old vineyards, whose owners want to uproot them, because they give a poor harvest. Having bought grapes from these farmers to produce 9,000 bottles of wine, I'm helping them to keep these small plots. I was motivated by the desire to explore our heritage – the old grape varieties. Small producers are the ones who can add them value, because many of us purchase grapes and we can thus help grape growers who have old vineyards".
The National Office for Vine and Wine is now working on the sectorial strategy of development, which envisages creating in the Wine Register of a special section to keep separate records of old vineyards. In the EU, wine produced from old grape vines is considered as a special quality category. This is regulated in the EU. In South Africa, there are about 2.5 thousand hectares of 100-year-old vineyards that are known all over the world.
It would be good to follow this experience in order to add more value to the Moldovan wines. In fact, some Moldovan wineries are already mentioning "old vines" on the labels. An association of producers who advocate for preserving the gene pool of old varieties could be set up.
The secret of the varietal composition
You might be surprised that the label simply says Sauvignon (without the second word – blanc). This grape variety was registered by the local authorities as Sauvignon – as it was customary in Soviet times. The second variety in this wine's composition is Feteasca (without specifying which one), because both Feteasca-albă and Feteasca-regală grow in the vineyard, in a proportion of approximately 60/40. Lace White Blend, 2019 is a mix of 65% of Sauvignon and 35% of Feteasca varieties.
According to the wine's creator, he tried to preserve the richness created by nature bringing it straight to the bottle. The grapes were harvested in crates. Then, the whole grapes were pressed without crushing. The must was cold-clarified. It fermented on wild yeasts, without any special additives, in small concrete amphorae, where the maturation took then place on a thin lease. Subsequently, it was stored in stainless steel tanks.
Lace White Blend, 2019
Lace has always been seen as a mystery, a symbol of elegance, impeccability. In the past, lace was considered as something to be preserved and bequeathed. This meaning was impregnated into the name of the wine, dedicated to our old vineyards – a real treasure that must be preserved and passed on to future generations", Gheorghe Arpentin said.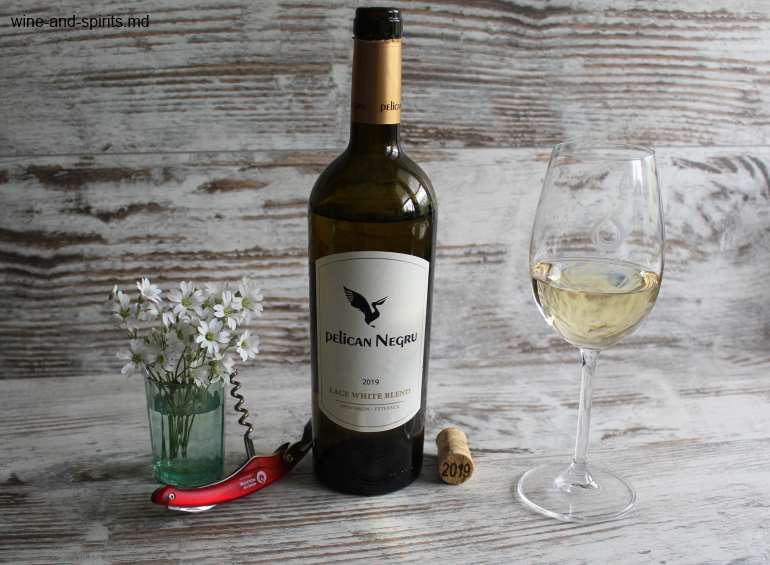 The wine is straw-coloured, dazzling. The first nose – floral-fruity aromas. But this white blend needs to "breathe", because Sauvignon, by its nature, is a very closed variety. The flavour contains white flowers (acacia is prominent), fresh notes of grass, apricot and apricot kernels. Later Sauvignon Blanc becomes evident through aromas of nettle, white currant, slices of fresh lemon and flint. Its texture is silky. The taste has notes of lemon, and the long aftertaste – of apricot kernels. The alcohol content is 12,5%.
Wine connoisseurs are looking for more complex wines, which can be obtained from old vines. This wine can serve as a signal to draw attention to old vineyards and to preserve this valuable gene pool, which still exists in Moldova.
One year later…
I had the opportunity to taste the same three red blends from 2015 vintage one year after the first meeting with them. It is interesting to compare how much the wines have changed.
Silk Red Blend, 2015: contains Cabernet Sauvignon (70%), Malbec (20%) and Rara Neagră (10%). Its colour is very dark, ruby at the edge. The first nose – overripe black berries. The bouquet has notes of blackthorn, fresh blackcurrant, plum, mulberries, white pepper and ash berries. An hour later, notes of tobacco leaves appeared. The texture is silky, it has a lively acidity. A slightly astringent taste of black berries, with prominent notes of blackthorn and ash berries. A long aftertaste, in which first appear notes of berries, then – of bitter dark chocolate. The empty glass emanates aromas of spices.
Soft Red Blend, 2015: contains Cabernet Sauvignon (85%), Malbec (10%) and Marselan (5%). It is a very dark coloured wine, with a ruby ​​edge. The first nose – ripe black berries. The bouquet has notes of violets, currants, blackberries, dried plums, sour cherries, black pepper, clove, followed by slight notes of plum jam, morocco, sweet red pepper. The texture is silky, it has a pronounced acidity, a pleasant astringency. In the slightly astringent taste – notes of black wild sour cherry, in the long aftertaste – blackthorn and dark chocolate.
Velvet Red Blend, 2015: contains Cabernet Franc (65%), Merlot (32%) and Cabernet Sauvignon (3%). The wine colour is dark cherry, with a cherry-coloured edge. There are no signs of ageing in the colour, likewise in the previous wines. The first nose – notes of overripe black berries, but not sweet, blackthorn and ash berries. After some aeration, it gets the sweetness of black berries, notes of raspberry leaves, violets, sweet pepper, blackberries, sour cherries, cinnamon and of cumin. A silky texture, a pronounced acidity. A slightly astringent taste of black berries. A long aftertaste with notes of blackthorn, which turns into bitter dark chocolate. The sweetness of the berries, the aromas of sweet spices and raspberry sprigs are still felt in the empty glass.
After a year, the flavour manifests itself differently, although the four and a half year-old wines are still young. The winemaker predicts a long life for them from 10 to 25 years, depending on the blend, although they have not aged in oak barrels. The secret of their youth lies perhaps in the biodynamic methods applied in the vineyards?
Where to buy them?
In Moldova, Pelican Negru wines can be bought in all wine shops and in the supermarket chains "No. 1", Linella, Fourchette, Kaufland, Bonus, negotiations are underway with Fidesco and Metro. For this producer, the local market is the most important in terms of sales volume.
The wines are also exported to Canada, to the stores of the state monopoly in Quebec, some quantity to Lithuania, Romania and France. Periodically, very small deliveries are made to Ukraine. Recently, a batch was set to an importer in Belgium.
Giving way to others
All small wine producers are in great need of various types of aid to develop their production and launch wines on the market. Thus, the partnership between their Association and the Moldova Competitiveness Project (funded by the USAID and the Government of Sweden) and the collaboration with the National Office of Vine and Wine helped them to grow in quality. The wineries gladly accept it.
Pelican Negru & Ko was provided with a grape crusher via a grant", the director of the company, Alexandru Baranețchii, stated. – It is a quite expensive, but very necessary equipment, and it would be difficult to produce high quality wines without it. In addition, we participate in many collective activities organized both in Moldova and abroad. It is very difficult for small producers to bear such expenses on their own, and for some it is even impossible. In general, any help is very important for winemakers. I think that not only us, but everyone in the industry still needs support in promoting one's exports, particularly in organizing wine presentations for trade professional, building awareness about us. Our company is mainly interested in German, Canadian, as well as of Russian markets".
Compared to other small wine producers, Pelican Negru & Ko LLC benefited from less donor support.
To avoid useless discussions, as if I took advantage of my position of director of the National Office of Vine and Wine in order to get support from donors, I try to use it as little as possible, although I was one of the founders of the Association of Small Wine Producers from Moldova – Gheorghe Arpentin says. However, such a help is very necessary for the Association. I thought that many of my colleagues need support more than me, because the company whose co-founder I am has been working for a long time. It has already grown over the years, reaching a production volume of up to 50 thousand bottles of red wines».