These wines bring us back to the times when the grape variety in wine was easy recognizable and when wine the toasty oak, such "fashionable" in the early 2000s, did not dominate the aromas. Someone would name it Old style. Heavy oaked wine is no more in demand in Europe, but rather that with minimal notes or with no wood flavor at all. So, is this wine trendy? And, of course, is has its own personality. Etnovin is a new small producer whose wines were introduced to the market during the National Wine Day 2019, but one cannot confuse these with any others.
Back to square one
The founder of Etnovin (located in Cricova) is Mihai Maciuca, a famous Moldovan winemaker, whose name is first of all closely related to the revival of Mileștii Mici winery. The stage of work at state enterprises was over in his life, and he wished to turn from the administrative work to the profession of winemaker and apply into practice the knowledge and the experience he had gained.
I have traveled a lot around the world, I visited New Zealand, Australia, South Africa, all European winemaking countries and I could see different winemaking styles", Mihai Maciuca tells. – As a result of using barriques and oak chips, wines have lately become more indistinguishable and similar. And I thought about coming back to the classic technology, when, by tasting the wine, one could determine the grape variety in it and even the terroir from where grapes originate. I also wanted to make the wines denser and recognizable, so that it would be impossible to confuse these with others. Wishing to emphasize the commitment to the traditions, I named the company – Etnovin".
The wine's personality is emphasized by the fact that each wine has its own name – Nurii Doamnei (Feteasca Regală), Mierea Ursului (Feteasca Regală Ice-wine), Amintiri (Cabernet Sauvignon rosé), Vorbă Dulce (Merlot rosé), Pe Cal Alb (Merlot) and Viață Lungă (Cabernet Sauvignon). Moreover, the variety is printed not on the label, but on the back label, what makes the wine more "individual". The ethnic style is well expressed by the labels which were designed by the members of the winemaker's family.
The winemaker's secrets
In order to confer a personality to his wines, the winemaker attempted to do something new. The first wine produced in 2017 at his own winery was an ice-wine from Feteasca Regală, and it was something that no one in Moldova, nor in Romania had done before. Thus, an "ice wine" was for the first time produced from Feteasca Regală. In 2018, the production of dry wines started, aiming at creating a full range of wines.
We use small boxes (8-10 kg) for harvesting. Before grapes processing, these are cooled in the refrigerator to + 1- + 2 °C. If the temperature is high outside, the grapes are refrigerated for one, two or even three weeks, because, if the white grapes are processed at a high temperature, these are likely to have an unwanted oxidized flavor. The flavor is still well preserved at a low temperature.

Then, the grapes undergo destemming and crushing. I invented my own technology for winemaking from free-run juice. Since there is no pressing, the skin and the seeds are not crushed and do not confer the wine any undesirable notes. Fermentation takes place in stainless steel tanks at low temperatures: the white grapes – at 10-12°C, the red grapes – at 16-20оС.

There is one more point, throughout the warm period of the year, I store all wines (including the red ones) in the refrigerator (I have small tanks – 3 thousand, 2.5 thousand and 1.5 thousand liters) to avoid adding to wine more sulfur dioxide and the risk of oxidation at high temperature. In addition, I've noticed that a rosé wine has got an aroma of overripe strawberries during aging at a low temperature, and another one – of wild strawberries. Before low temperature aging, it did not have such an aroma, but I noticed changes after it».
Nurii Doamnei, 2018
Feteasca Regală grapes were grown in a vineyard in the district of Cahul. Mihai Maciuca had been looking for this grape variety for a long time. In fact, many small producers that grow this variety, did not want to cooperate with Etnovin. The winemaker wanted the grapes to be left on the vine longer than usual, and they did not want to take risks. One farmer still agreed. Instead, the grapes' price raised by 1 MDL per kg for having kept them on the vine for almost one month longer.
Of course, the white grape variety Feteasca Regală could have been collected earlier, but at a later harvesting (when grapes are riper) new flavors appear in the wine. If the grapes are harvested when reaching their technological maturity, everything is predictable, but, in this case, I wanted to get a different effect. Since the water content in berries is smaller, their aroma and flavor are more intense. Due to this fact, one can feel a difference in terms of organoleptic characteristics. I wanted to obtain a more intense and individual wine».  
The wine is straw-colored. The first nose – floral honey. A very intense, rich aroma, with notes of acacia flowers, fresh May honey, a whole bouquet of wildflowers and some citrus notes.
In the taste – citrus flavor, in the aftertaste – almond. The wine is quite dense, with an alcohol content of 13.7%, which is well integrated and not perceived. Since the aroma is not very persistent, do not delay – drink and enjoy Nurii Doamnei.
2700 bottles of such wine were produced.
Mierea Ursului, 2017 Ice-wine
Although Feteasca Regală grapes were also used for this wine, it is completely different. Since the berries were frozen, a concentration of sugars, aromatic substances and acids is present in it. As usual, the alcohol content in "ice" wines is not high – 9.56%, and the sugar (natural) content – 90 g/l.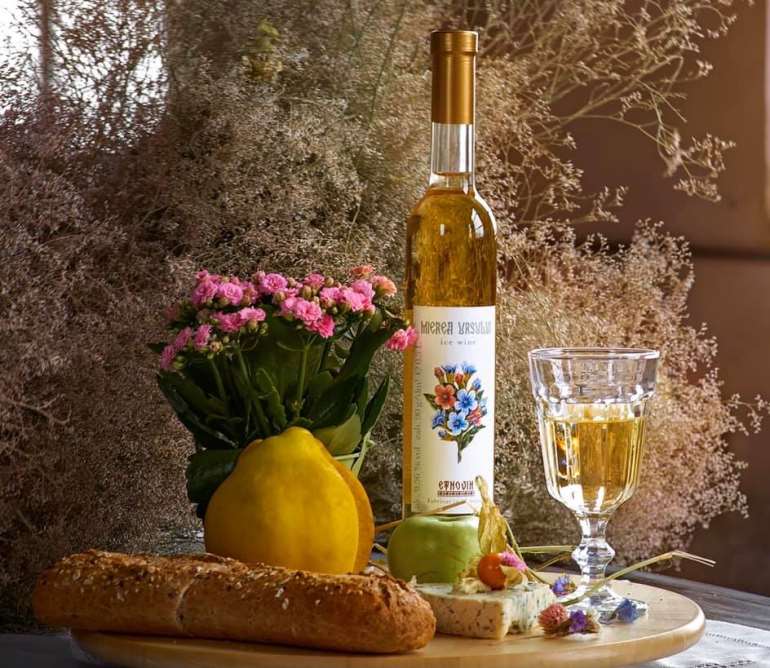 Let the wine breathe a little and it will delight you with its beautiful aromas for sure. It contains notes of fresh ripe apricot, chopped apricot kernel, summer apple, perfume of summer meadow flowers, freshly cut grass and almonds.
The wine's components are very well-balanced, so it has a pleasant sweetness. The wine has a very delicate texture. In the taste – apricot kernel, in the long aftertaste – almonds. The empty glass exuded aromas of flowers and apricot for a very long time.
On the second day, the flavor has somewhat changed: instead of freshly-cut grass smell, there is a scent of aromatic herbs, with prevailing basil notes. It was also perceived in the taste. The great advantage of sweet wines is that they can be well stored after opening the bottle. My Mierea Ursului, 2017 ice-wine kept for five days (until it ended), without losing its character.
5500 bottles of Mierea Ursului, 2017 ice-wine were produced.
Pe Cal Alb, 2018
Merlot grapes were grown in Anenii Noi district. Harvesting was also late. This wine is 100% Merlot, without any blend of other grape variety (up to 15% can be added without informing the consumers). I point out this fact, because Pe Cal Alb, 2018 differs from other Merlots due to its strength.
The wine was produced as a result fermentation on pulp and some other technological methods were also applied (the winemaker does not disclose them), thanks to which the wine turned out to be very extracted. While the extract in red wines usually amounts to 20-23 g/dm3, in Merlot Pe Cal Alb, 2018, before filtration prior to bottling, amounted 33 g/dm3, and in the bottle – to 30 g/dm3. The filtration was gentle, not to "unclothe" much the wine, because a lot of effort was put into making the red wines dense. In the other red wine of this producer – Cabernet Sauvignon Viață Lungă, 2018, the extract is even higher – 45 g/dm3.
I've ordered a thorough testing of my wines in a private laboratory, just for myself, – Mihai Maciuca says. – The colleagues who performed it said that the indicators are unique. Due to the high extract, the wines have an expressive taste and a long aftertaste. The back labels warn that phenolic compounds may precipitate, and that a "shirt" may form on the sides of the bottle after a long ageing. This is not a weakness of a red wine, and it can be explained by the natural processes of wine aging».
The wine has a beautiful ruby ​​color. The first nose – overripe black berries and milk cream. The wine leaves thick glycerin legs of the sides of the bottle – a product of alcoholic fermentation. By the way, it also contributes to the high extract of the wine.
A pure flavor, with no oak wood notes. In fact, a red wine without notes of oak in it, coming from oak barriques, staves or chips, has become rare. This Merlot is very self-sufficient, with distinct features of the grape variety.
The flavor contains notes of overripe juicy cherries, red currants, licorice, caramel, followed by notes of boiling raspberry jam. In the taste – berries, with a return of the flavor, a slight astringency. It is a very well-done juicy wine. It very harmoniously combines alcohol (14%), acidity, soft ripe tannins and fruitiness.
No more than 2 300 bottles of Pe Cal Alb, 2018 wine were produced.
Small producers need support
Etnovin LLC joined the Small Wine Producers Association and got the opportunity to benefit from the support provided to the Association by the Moldova Competitiveness Project, funded by USAID and the Government of Sweden.
In order to produce high quality wine, it is very important to properly harvest and transport the grapes to the winery, – Mihai Maciuca explains. – For this, small containers shall be used, not to damage the grapes, otherwise the oxidation starts in the berries. We have used grape harvesting boxes purchased by the donors for the association (10 thousand boxes of 8-10 kg each). The members of the association use them in turn. I rented 530 boxes, which contained all my harvest – 5 t.

I have not used the common equipment for bottling and capping, because I have my own machines, even a heat tunnel for putting heat shrink end caps. But I could see how my colleagues work with them. Without this support, it would be very difficult for small businesses to manage. Advertising and informational support is also very important for us, grace to it the consumers learn about new wineries and their wines. Neither Etnovin, nor our colleagues have funds for such purposes, as we are all at the stage of investment.

I intend to develop wine tourism. The donors help small producers in this field, too. They promised to help us develop a project and arrange the yard and the premises following an ethnic style. We started working with a designer and we are currently working on landscaping. All our family is involved in planting flowers and trees, painting, renovating».
Where to buy it?
Since Etnovin still produces small quantities – about 15 thousand bottles, it focusses on HoReCa market segment. The company's wines are in the wine list of Chisinau restaurants – Oliva, Pegas, Casa Dacă, Propaganda, Gastro Bar, Grill House, Popas Vânătoresc. The wines can also be bought in the online wine store wine.md, Casa vinului and Etnovin store in Cricova.
Moreover, Modlova Competitiveness Project has launched a campaign for promotion of online sales for wines from slam producers. For instance, Etnovin's dry wines can be bought on wine.md wine shop for 230 lei, home delivery being possible (what is not unimportant nowadays), ice-wine (0.5 l) -for 345 lei.
P.S. The producer has announced a special promotion during the quarantine with free home deliveray if more then 2 bottles are ordered. Dry wines cost 150 MDL, the ice wine 250 MDL. The orders can be left of Etnovin page on Facebook.